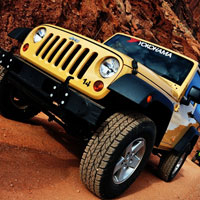 Moab is a very popular tourism spot, largely because of it's beautiful desert landscape. This landscape is perfect for all kinds of outdoor recreation, like hiking, biking, and camping. However, for those looking for a unique way to explore the outdoors, jeeping is also a great idea. It is a lot of fun for individuals and a whole family, and it allows one to go along the backroads and get a unique look at the outdoors. Jeeping can be combined with other kinds of outdoor recreation like hiking as well, so one can figure out what works best for them. Going out jeeping can also be the perfect time for things like photography, which is great for saving those amazing vacation memories.
While jeeping, one goes up and down sharp inclines, along the top of cliffs, through the back roads, and more. Going jeeping is very memorable, and is fun for adults and kids alike. Look into reserving a jeep here if you are interested, and make sure to bring plenty of water as well as maps. Going with a guide may also be a good idea, and like with all outdoor recreation it is important to tell others where you will be going.
With plenty of water and maps, going jeeping can be one of the best ways to spend your vacation. Check out different trails to see what works best for you, and stay safe and have fun out there!