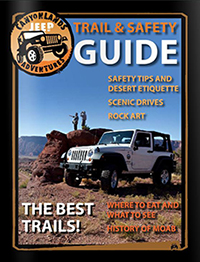 Going jeeping in Moab is one of the best ways to enjoy the outdoors. Jeeping in the backcountry really allows one to see parts of the trail that they wouldn't otherwise, and it can be an exhilarating and memorable experience for everyone involved. Figuring out where to rent a jeep can be a bit of a difficult choice, so here are a few reasons why you should choose Canyonlands Jeep Rentals when heading out onto those jeeping trails.
Firstly, Canyonlands Jeep Rentals is considered to be one of the best Jeep Rental places in town. There are all kinds of positive reviews, with many highlighting the exemplary customer service, such as making sure to give out trail guides, talking with people in-depth on where they want to go jeeping, and so on.
Canyonlands Jeep Rentals has been in business for ten years, is locally owned and operated, and has a local staff that know the trails as well. They are ready to talk about the many different options one can take while out with a jeep, and the jeep rentals all come with a booklet describing some good and easy trails for beginners.
Canyonlands Jeep Rental is one of the best places to rent a jeep in town. The staff is friendly and efficient, the jeeps are in excellent condition, and there are great trail guide booklets available there as well. Look here to make a reservation.