Fun in The Sun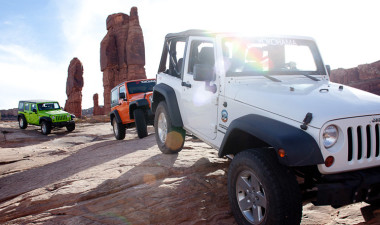 Jeeping is a blast. If you stay on maintained trails and be careful you will have no problem navigating the red rock country around Moab. Each Canyonlands Jeep rental comes with a recommended trail map, a cooler with ice and water and plenty of room for your own snacks. Call our office to arrange your special picnic. Recommended items that you should bring – sunblock, hat, a light jacket and a small 1st aid kit. Although Canyonlands Jeep supplies water you should always bring extra. (A gallon per person per day).
As an added piece of security for our guests in the backcountry we have installed GPS locators in all of our Jeeps and Cars. We very rarely have someone get lost, but we get this question every day and to better serve you, you will have the confidence that if you do get into trouble or lost we will have the ability to find you quickly and come and get you.
Backcountry Permit information for Canyonlands National Park : https://www.nps.gov/cany/planyourvisit/dayusepermits.htm
Trails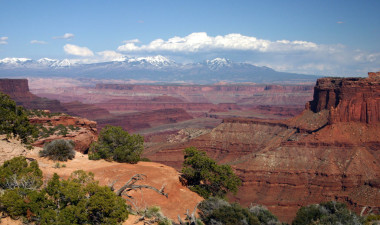 Our staff has put together a list and map of scenic and fun trails to explore. Each Jeep comes with a booklet with 8-9 recommended trails that are fun and easy to navigate. The trails guide you through some of Moab's most scenic country. Most trails are combined to take you in one way and out another. Our most popular combination takes between 5-6 hours and is spectacular. Just take your time and enjoy the scenery.
You can check out our trail map at Canyonland Jeep Adventure Trail Map.
PROHIBITED AREAS AND TRAILS: The following areas and trails are prohibited due to the nature and difficulty of the trail. Inexperienced drivers can cause harm to themselves and the Jeep while on these trails. Moab Rim, Golden Spike, Behind the Rocks, Pritchett Canyon, Poison Spider, Hell's Revenge, Metal Masher, Steel Bender, Gold Bar Rim, Cliffhanger, Kane Creek Canyon, Top of the World, Strike Ravine, Porcupine Rim, Rose Garden, Potato Salad Hill, Area BFE, Rusty Nail or any other extreme off road trails.
Pet Policy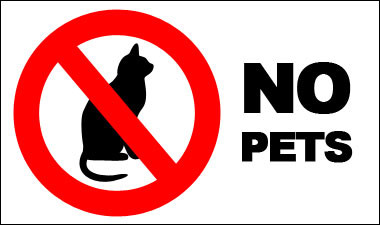 Please no pets… At Canyonlands Jeep Adventures we love animals and even though you would like your animal to be an exception to the rule. We cannot allow animals for any reason in our Jeeps. (unless it is a guide dog) It takes us hours to clean all the dog hair out of Jeeps and even though people ask if they cover the seats can they bring their pet. The answer is still No. If we do find pet hair in the Jeep you will be required to pay a $100 cleaning fee.
Please also be aware the dogs are not allowed in the National Parks and in the summer temperatures can easily hit the 100 degree mark. If you are looking for a great place for your animal to hang out for the day please call Karen at Karen's Canine Campground 435-259-7922.
Other Adventures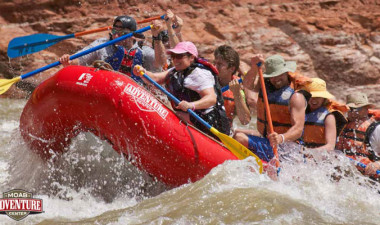 Canyonlands Jeep Adventures has many connections to all the activities offered here in Moab. Our staff are all local and have first hand knowledge of the sights and attractions offered in and around Canyonlands, Arches, and Moab. We would be glad to recommend and assist you in any of your vacation needs.
Age for Renting Jeeps
Canyonlands Jeep Adventures requires all drivers to be minimum of 25 years old. No exceptions, please!
We Offer Supplemental Tire/Glass Coverage for Our Jeeps
Tire/Glass covers the full value of one tire or windshield with no deductible at a cost of $25.00 for the term of the rental. This is good for all of our rentals – Jeeps and cars.
Payment
Payment for rental is due at time of reservation. Canyonlands Jeep and Car Rentals will charge the amount of the rental period at time of reservation. After the vehicles has been returned the contract will not be closed until after inspection and check in.
7 Day Cancellation Policy
We have a 7 day cancellation policy. If you cancel less than 7 days prior your reservation you will be charged one day's rental rate. Any cancellations can be made by telephone or email. However we do not accept cancellations left on voice mail.
Reservations
Canyonlands Jeep Adventures recommends advanced reservations, especially on weekends. Jeeping is becoming very popular around Moab – so don't miss out! Please visit our reservation form.