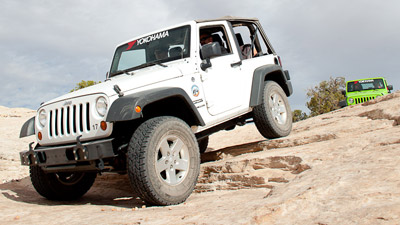 Jeeping is an amazing and exhilarating activity. Moab is a fantastic place for it, and Canyonlands Jeep Adventures offers great rentals for reasonable prices. However, before hitting the trails it is important to be as prepared as possible. Here are some tips for one to keep in mind in order to have a better and safer adventure in the outdoors.
Firstly, it is vital to have plenty of water. Even during the winter, having water helps one to stay energized and hydrated. A good rule of thumb is to have one gallon of water per person, per day. It may seem like a lot, but it will help keep one from getting sick or injured.
Secondly, travel in groups, with at least one other vehicle. Having more people in the group, especially those that are more experience with jeeping, can be very helpful for knowing the trails, as well as having extra hands around in case an accident occurs. Furthermore, if one is going out on the trails for the first time, it is important to pick an easy one to start with, and to practice the basics, especially before attempting anything more difficult.
Thirdly, having first aid kits and other safety gear can help to keep one safe if an emergency does happen. Even basic things like bandages and gauze can make things easier, and can even save a life in the long run. With outdoor recreation like jeeping it can be especially important to take care of any wounds as best as one can before EMS arrives.
With these simple safety tips in mind, going jeeping can be an easier experience for everyone involved. Stay prepared, and have fun out there!