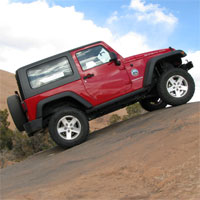 Outdoor recreation – whether it is jeeping, hiking, climbing, or other activities – is one of the best ways to enjoy nature. It can also be a wonderful way to get some exercise, and a great way to spend time with family. Outdoor recreation can also provide one with opportunity to take pictures as well, or to relax all alone. However, there are some difficulties involved with outdoor recreation that one should be aware of. One of the best ways to stay safe in the outdoors is to be as prepared as possible. Here are a few tips on staying prepared for all kinds of outdoor recreation:
Firstly, bring plenty of food and water. Even if one only intends to be out for a few hours, it's important to have extra. After all, it is better to be safe than sorry, and if an accident or emergency occurs, you will need food and water.
Secondly, make sure to have first aid and any other medical gear you could need. This is vital in case of emergencies, or if one ends up staying out later than intended. This is especially important for those with medical conditions, such as asthma or diabetes.
Thirdly, tell people where you will be going. If other people know where you will be, then if an emergency or accident happens EMS services can more easily be alerted of your location. In addition, traveling in a group is also a good idea for staying safer as well.
With these tips, staying safe in the outdoors can be a little easier.