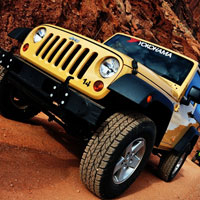 Father's Day is coming soon, so it is time to figure out just what to do for that special day. One of the best ways to celebrate is to spend quality time with one's dad, and a great way to do that is to participate in some outdoor recreation. There are a lot of different options to choose from, including activities involving water in order to escape the summer heat. One can also go hiking, jeeping, biking, and more, and they are all fantastic ways to enjoy Father's Day. In fact, exploring the outdoors on Father's Day has a lot of unique advantages, from getting exercise to it being a great opportunity for pictures.
Outdoor recreation can really allow one to get close to nature, and can be great exercise as well. Furthermore, it can make days like Father's Day even more memorable, as it can be something different to do for that holiday as well. Taking pictures while in the outdoors is a wonderful way to preserve memories of the occasion as well.
For example, one fantastic way to explore the outdoors is through jeeping. Jeeping allows one to go on the backroads and see parts of trails that one otherwise wouldn't. Jeeping can be along cliff sides, up and down steep inclines, and is a very exhilarating experience, so all-around it is a unique and fun way to spend Father's Day.
Look here for jeep rentals, and be sure to go out with a guide when exploring the outdoors.