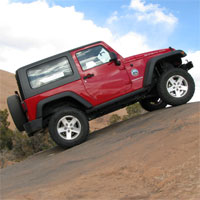 Jeeping is one of the best ways to explore the outdoors. It's a lot of fun, and can be a thrilling and memorable experience. In particular, jeeping in Moab is fantastic, partly because of the great rental services available (such as our own rental services) but it also has beautiful and unique scenery. Exploring the backcountry of Moab is completely unlike other jeeping experiences. In fact, Moab and the areas around it have been used several times in movies as alien landscapes, and it's easy to see why. Jeeping in Moab is an experience that one likely won't forget any time soon.
Jeeping on its own is also amazing. It can be great for those that want to explore the outdoors but don't want to hike, or one can go hiking in addition to jeeping. Jeeping can also be a lot of fun for the whole family. Kids love the excitement of going up and down the steep slopes or along cliff sides. Jeeping is also a great opportunity for photography, and it really helps to make trips more memorable.
When going jeeping it is important to have all the right gear in order to be properly prepared. Most importantly one needs to have plenty of water, as well as food. The general rule is that one is supposed to have at least a gallon of water per person per day, and one will usually need extra if they are out in the hot sun.
Bring all the right gear, stay safe, and have fun out there.